nine of hearts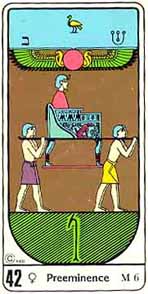 PERCEPTION AND USE OF OWN GIFTS - CONQUEST OF priviledged POSITION- IDENTIFICATION OF PRIORITIES
Everyone has a combination of gifts that make them special, and you're having the opportunity to recognize them and be recognized by your gifts. People that are important to you are noticing you and helping to promote yourself.
Show of your art. Take an exam that you are well prepared for. Contact key people to help in the fulfilment of your goal. Redeem your self-esteem.
Love life: You are looking to be with a person that you can be proud of. You're giving more value to yourself, and thereby attracting more interesting people. If you already have a partner, he/she will give you more value. Unless you have an Ace in conjunction with this card, which may indicate that the lack of appreciation led to a separation.

At work: Promotion. Accolades. You have accumulated knowledge, experience and evidence of your capability. Now you are having the chance to show them, and you will be recognized. Important people in your area will notice you, and you will be proud of your accomplishments.